Choosing the perfect wedding venue is a crucial aspect of planning your big day.
With so many options available, it can be overwhelming to find the right Orlando
wedding venue. Orlando, Florida offers a variety of breathtaking wedding venues,
each with its unique style and charm. From elegant and sophisticated spaces to
charming and rustic estates, and just about everything in between, Orlando has
something for every couple's taste. As an Orlando wedding photographer, I've
been all over the city and helped curate this list to help you choose the perfect
location for your special day.
Contact us today.
We would love to hear about your special day!
With over five years of professional experience and more than 300 weddings completed, my team and I know how to capture your special moments in a timeless and unique way that evokes the magical mood and essence of the time and place.
If you are interested in booking, please reach out to us asap.
Call us at 3212582525
The Best Wedding Venues in Orlando Florida
Bella Collina Florida
Bella Collina Florida is a breathtaking wedding venue that offers a magical
Tuscan-inspired wedding day experience just West of Orlando, Florida. This
venue is the epitome of romance and elegance, with a private golf course,
gorgeous villas, two serene lakes, fire pits, and rolling hills all around.
There are multiple event spaces to choose from for your wedding day including
the Grand Lawn, the Reflection Pool, the Ballroom Veranda, the Siena Event
Room, and a formal ballroom. For more intimate occasions (30 people or less),
you can also utilize the wine cellar and soak in all the European-inspired, elegant
surroundings.
Address: 15920 County Rd 455, Montverde, FL 34756
Website: https://www.bellacollina.com/weddings-events/weddings
Capacity: 250 guests
Cost: Starting at $5,000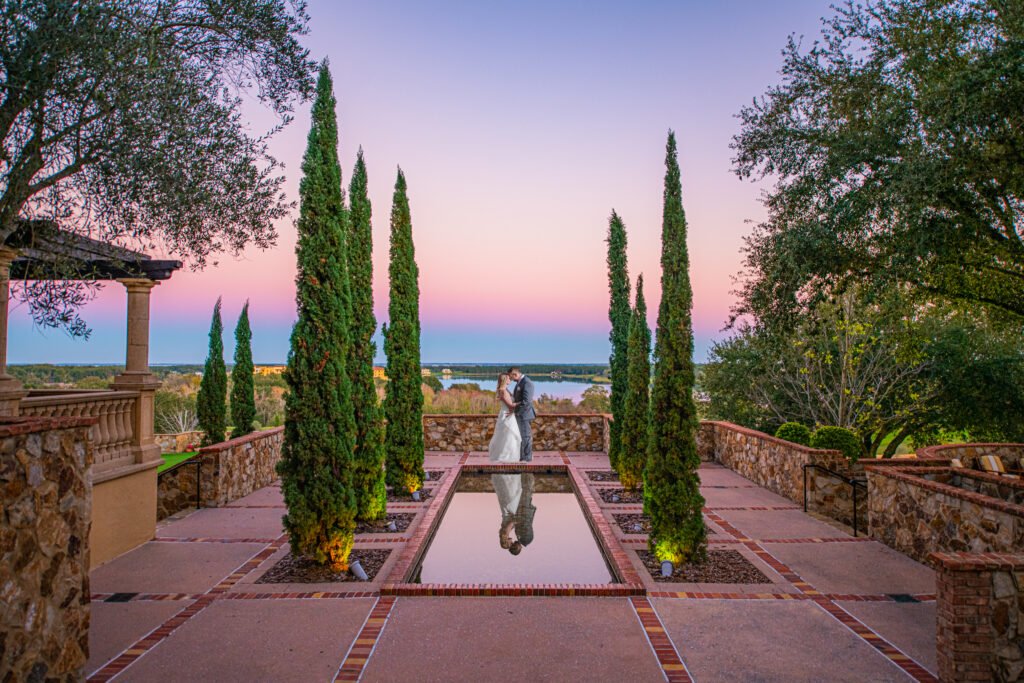 Orlando Science Center
For a unique wedding day, just outside of Downtown Orlando, you will want to
consider the Orlando Science Center. There are two unique indoor locations for
your ceremony or reception including the Our Planet exhibit with large
suspended earth and projected planets all around or the DinoDigs right next to
prehistoric fossils and dinosaurs surrounding.
The Orlando Science Center also has an outdoor event space called the
FINFROCK Terrace. This space provides panoramic views of Downtown Orlando
and market lights twinkling above making for a romantic and elegant space.
Address: 777 E Princeton St, Orlando, FL 32803
Website: https://www.osc.org/visit/events/weddings/
Capacity: 300 guests
Cost: $4,000 – $5,000 for 100 guests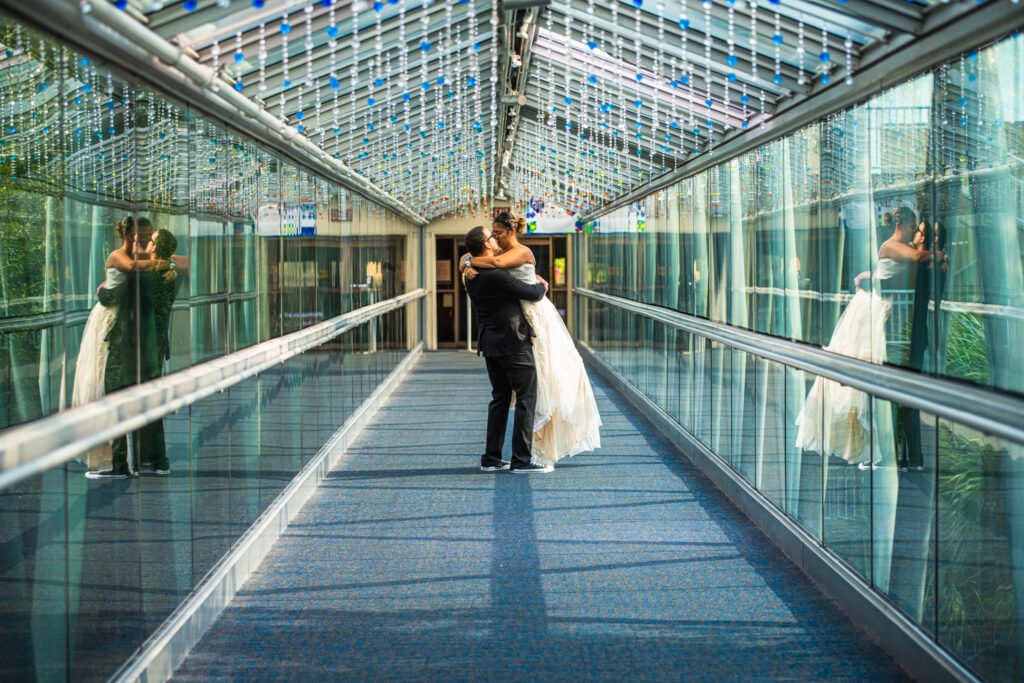 Lake Mary Event Center
For a charming and private wedding venue, consider the Lake Mary Events
Center. This venue is nestled in the heart of Lake Mary and offers breathtaking
views of West Crystal Lake as a backdrop from the outdoor ceremony site. With
its natural beauty, stunning gardens, and plenty of room for your guests, the Lake
Mary Events Center is a must-see venue for couples who love the great
outdoors.
Couples can also choose to take their wedding inside with the rotunda. This
indoor space has huge windows surrounding it to bring the outside in without
being exposed to the elements. There also are three different ballrooms perfect
for your receptions.
Address: 260 N Country Club Rd, Lake Mary, FL 32746
Website: https://www.lakemaryeventscenter.com/
Capacity: 300 guests
Cost: Full building rental starting at $1,500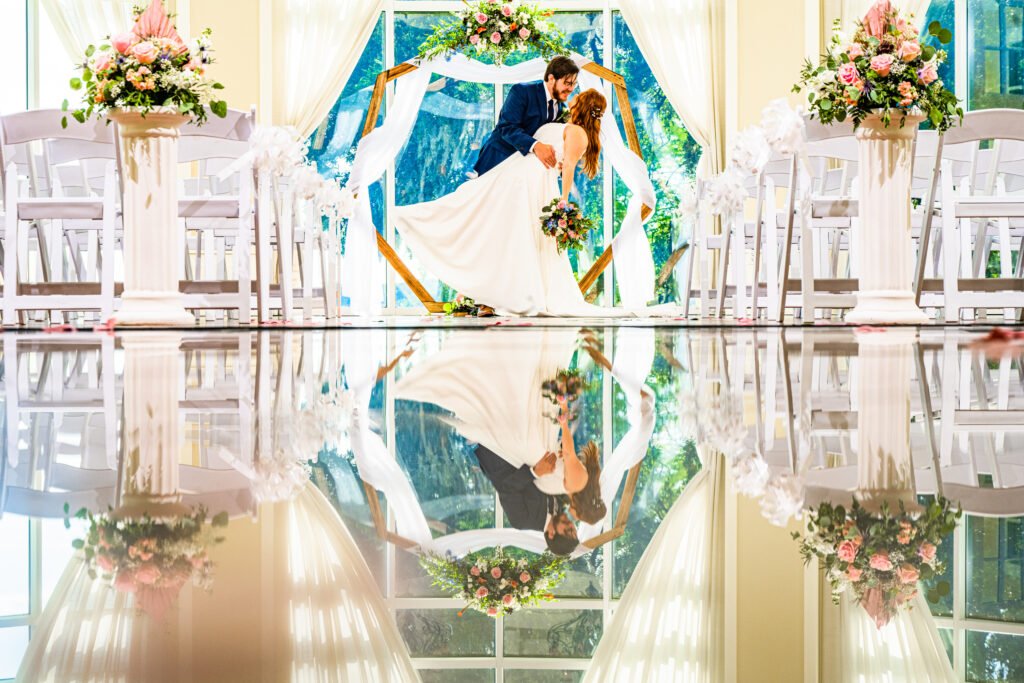 Living Seas Salon
It would be hard to create a list of the best wedding venues in Orlando without
thinking about Walt Disney World! The Living Seas Salon, located inside the
Epcot theme park, is one of my favorite venues inside Disney.
This reception venue surrounds couples and their guests with the beauty of the
sea. This space features a 5.7-million-gallon saltwater aquarium with
floor-to-ceiling plexiglass windows peering into the lives of over 6,000 fish. With
stunning views of the aquarium and plenty of room for your guests, the Living
Seas Salon is a fantastic choice for a memorable wedding celebration.
Address: 200 Epcot Center Dr, Lake Buena Vista, FL 32830
Website: https://www.disneyweddings.com/florida/venues/living-seas-salon/
Capacity: 100 guests
Cost: For detailed pricing information, reach out to Disney's Fairy Tales Wedding.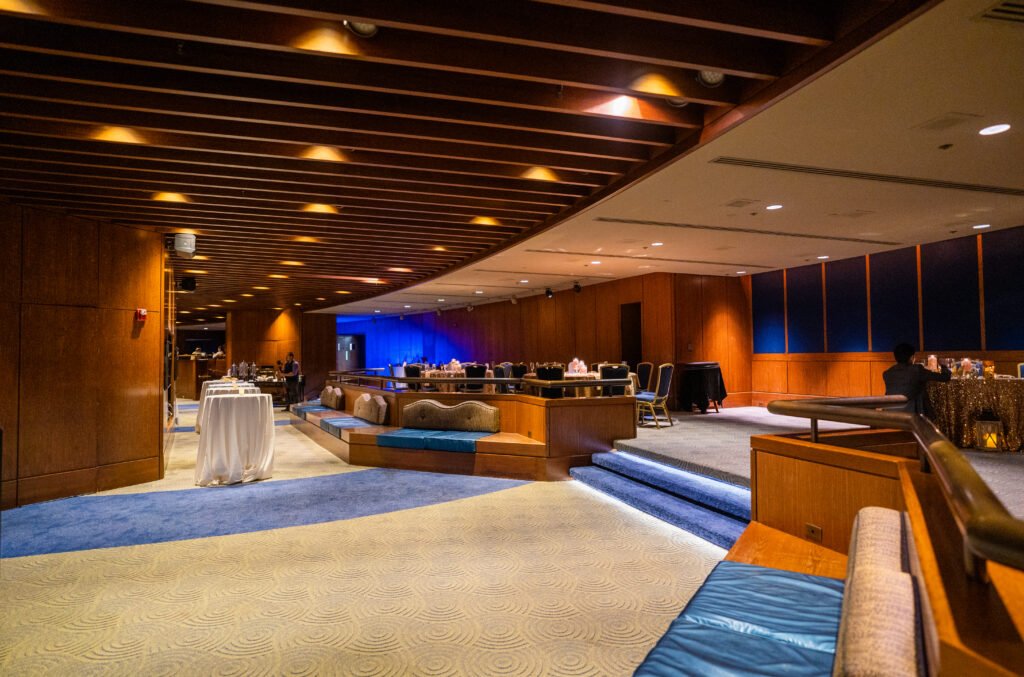 Sydonie Mansion
The Sydonie Mansion is a stunning Georgian-style venue that offers a beautiful
and historic setting for your big day. Dating back to 1833, this historic mansion
offers beautiful indoor and outdoor spaces with charm and elegance. Some of
the available spaces include the front lawn with sweeping trees and views of
Lake Minore, a charming inner courtyard, beautiful gardens, a covered porch, a
dining room, and a kitchen.
Address: 5538 Sydonie Dr, Mt Dora, FL 32757
Website: https://sydoniemansion.com/
Capacity: 150 guests
Cost: $5,000 – $7,000 for 100 guests

The Howey Mansion
The Howey Mansion is a beautiful and historic wedding venue that offers a
charming and romantic setting for your big day. Some of the standout features of
this venue include its stunning gardens, a large open foyer, a grand ballroom,
multiple fireplaces, winding staircases, and a spacious patio. With so many wide
open and large spaces, the Howey Mansion has room for all of your guests for a
grand and luxurious wedding day.
Inside the basement of the mansion, couples can also enjoy the unique
prohibition room experience. This unique space allows couples to step away for a
moment for a private experience with a bartender and your choice of two spirits.
Address: 1001 Citrus Ave, Howey-In-The-Hills, FL 34737
Website: https://www.thehoweymansion.com/
Capacity: 400 guests
Cost: Starting at $2,500

Tavares Pavilion on the lake
Tavares Pavilion on the Lake is a beautiful waterfront venue about 45 minutes
outside of Downtown Orlando, that offers a picturesque setting for your big day.
With its stunning views of Lake Dora and spacious ballroom, Tavares Pavilion on
the Lake is the perfect choice for a romantic and intimate wedding celebration.
The pavilion extends out onto the lake with two stories of space, large grand
staircases overlooking floor-to-ceiling windows over the lake, and spacious,
elegant ballrooms.
Address: 200 S Disston Ave, Tavares, FL 32778
Website: https://www.tavarespavilion.com/
Capacity: 150 guests
Cost: $4,000 – $5,000 for 100 guests
Dr. Phillips Center
For a chic and sophisticated wedding experience, consider tying the knot at the
Dr. Phillips Center. This venue is ideal for couples who want to celebrate their big
day in style, with a beautiful ballroom, stunning views of downtown, and plenty of
room for your guests.
In addition to the large main theater, there are multiple large and small event
spaces including the Grand Lobby, Rooftop Terrace, and several different halls.
Whether you're looking for an indoor or outdoor wedding, the Dr. Phillips Center
is a fantastic choice for a memorable and grand wedding celebration.
Address: 445 S Magnolia Ave, Orlando, FL 32801
Website: https://www.drphillipscenter.org/meetings-and-events/weddings/
Capacity: 2,700
Cost: $3,000 – $4,000 for 100 guests
Casa Feliz
Casa Feliz is a stunning Spanish-style farmhouse wedding venue that offers a
beautiful and historic setting for your big day in the heart of Winter Park. Inside
the farmhouse, you will find a refurbished space with hardwood floors, large
hand-hewn beams, and antique furniture. Most ceremonies take place outdoors
with century-old brickwork, a balcony overlooking your guests, and manicured
lawns and gardens.
For your wedding reception, the gorgeous interior courtyard is hard to beat. This
space is surrounded by brickwork, large greenery, and lights hanging overhead.
The space can also be tented.
Address: 656 N Park Ave, Winter Park, FL 32789
Website: http://www.casafelizvenue.com/
Capacity: 80 indoors and 120 outdoors

Cost: $4,000 – $6,000 for 100 guests
Winter Park Event Space
Walking up to the Winter Park Event Space you are immediately struck with
unique and stunning architectural features surrounding the building. This
versatile and sophisticated space has both indoor and outdoor spaces that can
accommodate both large and intimate occasions.
Indoor locations include the main grand ballroom with large open windows
overlooking the outdoor space and Lake Mendsen. There also is a rooftop
terrace, a rooftop meeting room, a pre-function lobby, two dressing rooms, and
two kitchens. If you prefer an outdoor space, you can select either the Belvedere
or the Tiedtke Amphitheater.
Address: 1050 W Morse Blvd, Winter Park, FL 32789
Website:
https://cityofwinterpark.org/departments/parks-recreation/library-events-center/re
servations/
Capacity: 250 indoors and 348 outdoors
Cost: $3,150 for the entire building rental
Frequently Asked Questions About Orlando Wedding Venues

How Much Does a Wedding Cost in Orlando Florida?

The cost of a wedding in Orlando Florida can vary greatly depending on
numerous factors, including the size of the wedding, the venue, the catering, and the number of guests. According to business insider the average cost of a wedding in Orlando is around $26,000
What is the Best Month to Get Married in Orlando Florida?

The best time to get married in Orlando, Florida will largely depend on personal
preference and individual circumstances. Peak months for weddings in Orlando
include October, November, and March when temperatures are warm and sunny,
but not too hot. These months offer the ideal weather for outdoor weddings, and
many popular wedding venues have their peak season during these months.

How do you Legally get Married in Orlando?

To legally get married in Orlando, Florida, both parties must obtain a marriage
license from the Orange County Clerk of Court. Both parties must appear in
person to apply for the license and pay the necessary fees. As of February 2023,
the cost to obtain a marriage license is $86.
In addition, both parties must provide proof of identification, such as a driver's
license or passport. Once the license has been issued, the couple must have
their wedding ceremony performed by a licensed officiant within 60 days of the
date the license was issued.
Looking For An Orlando Wedding Photographer To Capture Your Special Day? Let's Make Some Magic